Delta Five Security, security guards in Miami, FL, was established in 2007 by a management team with strong law enforcement, military, and security background and many years of providing contract security guard services in the public and private sectors of South Florida.

Clarity and complete honesty on pricing issues – If we cannot service it right, we will not sell it. Excellent support and personal customer service in all price categories. Contact our security guard company for FREE security assessment.

Our sister company, Delta Five Institute, offers in-house training to security officers and can tailor post specific instructions for each client. It also provides the state-required D and G license courses and test preparation, concealed weapon permits, and how to react and survive an active shooter situation, among others.
DELTA FIVE SECURITY
Security Guards in Miami
"On a Mission to Serve"
Our security guards in Miami and our management team understands the importance of their mission as your security services provider. When you become our client, we become your partner and an integral component of the solutions for your security guard needs.
As our client, you will be the recipient of top-notch customer service delivered by a team of professionals that are responsive, friendly and committed to excellence because we understand and appreciate that as a client, you are our company's most important and valuable asset.
At Delta Five Security, we emphasize 100% customer satisfaction and we pledge to earn your trust, your business and future referrals each and every day. We look forward to becoming your preferred provider for security guard and front desk ambassador services. Our goal is to establish a long and mutually rewarding relationship with you.
Give us a call at 305-635-6200 if you are looking for security guards in Miami, FL and one of our team members will contact you and learn about your specific needs. You may also send us an email to info@deltafivesecurity.com. You will not regret it!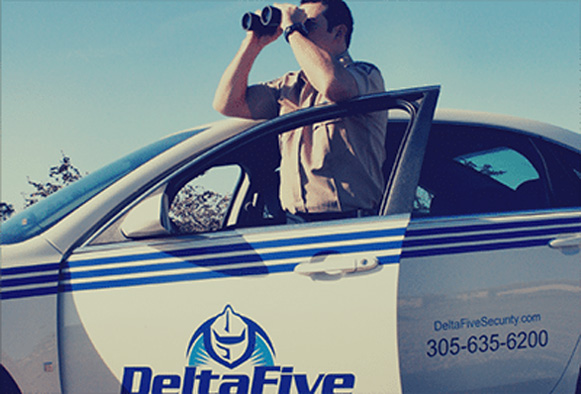 Professional Security Services at Delta Five Security:
"Top-Rated Security Guards in Miami"
SECURITY GUARD SERVICES
Commercial Security Services

Residential Security Services

Government Contract Services
Protection of High Value Goods
We welcome the challenge and the opportunity to become your preferred security company in South Florida. Our security guards in Miami includes services Miami, Fort Lauderdale, West Palm Beach and surrounding areas.
Delta Five Security is committed to provide clients with innovative and cost effective solutions for all their security guard needs. We go the extra mile and offer clients customized services that many of our competitors don't even realize are needed.
That is why we specialize in providing services to those that demand a higher, more sophisticated level of security, at competitive rates.
One of the great advantages our clients have is that unlike large regional and multi-national companies, we provide the kind of personalized services you expect from a small local vendor combined with the corporate structure, methods, supervision and training that the much larger companies only offer to their best corporate and government clients. You get the best of both worlds each and every day.
Our security services range from armed and unarmed security officers, protection escorts of high value goods, access control and front desk ambassador services at commercial and residential buildings, residential communities, industrial parks, marinas and boat yards, strip malls and shopping centers, and distribution centers and financial institutions, among others.
If you are in need of security guards in Miami, Broward, or West Palm Beach counties, give us a call at 305-635-6200 to speak to one of our team members. No sales pressure and no obligation, just the information you need to make the right decisions. You can also email us at info@deltafivesecurity.com
WE ARE TRUSTED BY THESE COMPANIES
OUR LATEST SECURITY ARTICLES
Hiring a Security Guard in Miami The security of a property is the building [...]